Mainkan NecroMerger - Idle Merge Game di PC dengan NoxPlayer
Detail
Terakhir update :  2022-08-17
Versi sekarang :  Varies with device
The Devourer is always hungry and it's your job to feed it in this idle merge game mashup. Play as the NecroMerger and use dark magic to summon an army of creatures (skeletons, zombies, demons, banshees… the list goes on). Merge them from piddly little grunts into massive (and tasty) brutes, before feeding them to your ever hungry pet.

As you grow your Devourer you'll attract the attention of merchants, champions and even rivals. Some can be useful, others must be fought… or fed to your insatiable pet. The bigger the Devourer grows the more your lair will expand and you'll unlock powerful abilities and spells.

Complete feats to unlock new stations and equipment… graves, altars, fridges and even a bathtub to hold excess slime. New stations will let you summon new, stronger (and even more tasty) creatures. Manage your lair and minions to maximize your resource generation.

NecroMerger is a whole new type of game that combines merge and idle mechanics with resource management to create something truly unique.

Grow Monsters
+ 70+ creatures to spawn and merge.
+ Creatures have unique abilities to manage (resource generation, damage, deliciousness)
+ Legendary Creatures with big benefits.

Expand your Lair
+ Expand your lair. Unlock new equipment including; graves, supply cupboards and portals.
+ Attract Champions, merchants and thieves to your lair.
+ Complete feats, master spells, brew potions.

Idle Merge Mashup
+ A unique system of resource management.
+ Resources generate even when you're offline.
+ Months of fun!

From the makers of Idle Apocalypse and Idle Mastermind, NecroMerger has the humour and inane chatter you'd expect of a Grumpy Rhino Game.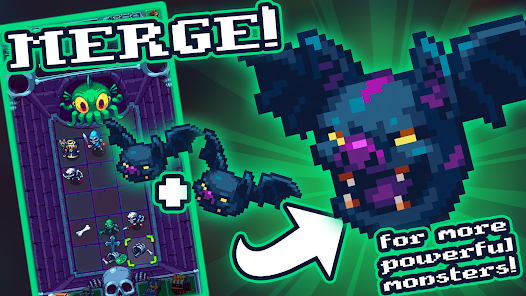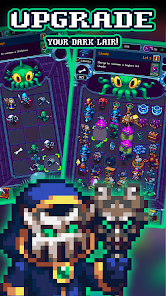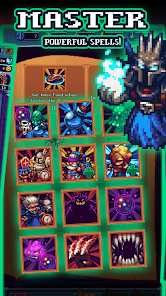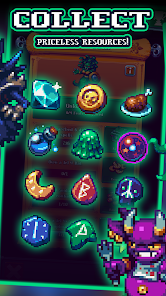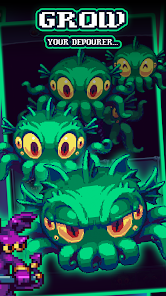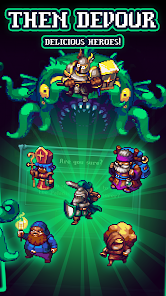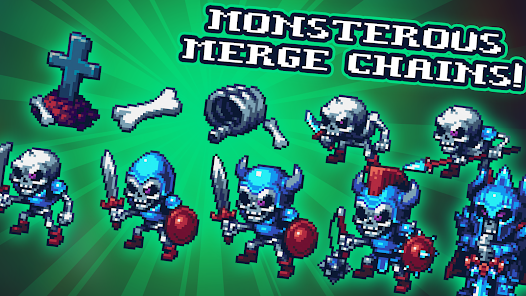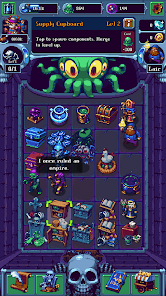 NoxPlayer Menyediakan Pengalaman Terbaik Bermain Game untuk Anda
Bagaimana memainkan NecroMerger - Idle Merge Game di PC menggunakan NoxPlayer?
1Download NoxPlayer di PC Anda.

2Aktifkan paket instalasi dan selesaikan install nya

3Cari NecroMerger - Idle Merge Game di NoxPlayer

4Install gamenya di Google Play.

5Klik ikon Game untuk memulai

6Mainkan NecroMerger - Idle Merge Game dengan NoxPlayer di PC lebih mudah
Metode kenyamanan
Langkah 1. Klik "Download di PC" untuk download NoxPlayer dan apk
Langkah 2. Jika Anda sudah unduh NoxPlayer di PC, klik "Download APK", kemudian seret dan letakkan file ke emulator untuk menginstal.
Video menakjubkan dari NecroMerger - Idle Merge Game
Ingin menjalankan NecroMerger dengan pengalaman bermain game yang lebih baik? Dengan keunggulan layar yang lebih besar, keyboard yang lebih cerdas dan stabil, serta kinerja hardware yang lebih unggul, dengan bangga NoxPlayer menciptakan pengalaman bermain game yang ekstrem di PC. Dengan mengunduh dan memainkan NecroMerger di PC melalui NoxPlayer, pengguna tidak perlu khawatir dengan kapasitas baterai atau gangguan panggilan lainnya.
NoxPlayer kompatibel dengan Android 7 dan mensupport lebih dari 90% game mobile di PC, yang akan meningkatkan pengalaman bermain game Anda dengan sempurna. Selain itu, dengan membuka banyak layar instance, Noxplayer mendukung untuk menjalankan beberapa game atau aplikasi secara bersamaan, atau mengobrol dengan teman Anda saat bermain game.
NoxPlayer sangat kompatibel dengan AMD dan Intel dengan teknologi virtualisasi inti eksklusif, membuat komputer Anda berjalan lebih stabil dan lancar. Unduh NoxPlayer dan rasakan pengalaman ekstremnya sekarang!
NoxPlayer is designed for Windows and MAC OS, please visit this website via computer browser to download NoxPlayer.