Mainkan This War of Mine di PC dengan NoxPlayer
Detail
Terakhir update :  2022-05-24
Versi sekarang :  1.6.2
The Little Ones expansion is available now as an inapp purchase!

"If you've not already played this brilliant, heartwrenching game, then mobile is as good a place as any to let it completely destroy you." , 9/10, Pocket Gamer UK

"This War of Mine isn't exactly "fun," but it's definitely a game worth playing." , 9/10, 148apps

In This War Of Mine you do not play as an elite soldier, rather a group of civilians trying to survive in a besieged city; struggling with lack of food, medicine and constant danger from snipers and hostile scavengers. The game provides an experience of war seen from an entirely new angle.

The pace of This War of Mine is imposed by the day and night cycle. During the day snipers outside stop you from leaving your refuge, so you need to focus on maintaining your hideout: crafting, trading and taking care of your survivors. At night, take one of your civilians on a mission to scavenge through a set of unique locations for items that will help you stay alive.

Make lifeanddeath decisions driven by your conscience. Try to protect everybody from your shelter or sacrifice some of them for longerterm survival. During war, there are no good or bad decisions; there is only survival. The sooner you realize that, the better.

Key Features:
• Inspired by reallife events
• Control your survivors and manage your shelter
• Craft weapons, alcohol, beds or stoves – anything that helps you survive
• Make decisions an often unforgiving and emotionally difficult experience
• Randomized world and characters every time you start a new game
• Charcoalstylized aesthetics to complement the game's theme

The Little Ones:

The newly delivered expansion explores the hardships of wartime survival as seen from an entirely new perspective―that of a child. This DLC puts you in charge of a group of adults and children stuck in a besieged city, struggling with basic necessities. TWoM: The Little Ones focuses not only on the reality of enduring war, but also on how even in times of conflict, kids are still kids: they laugh, cry, play, and see the world differently. In addition to thinking about survival, you'll have to summon your inner child to understand how to protect the little ones. Their youth, and their future, are in your hands.

• Experience the biggest expansion to This War of Mine
• Protect innocent children
• Craft toys, play with kids, and be the caretaker they need
• Meet new adult civilians in scenarios with children

Supported languages:
English, French, German, Italian, Spanish, Polish, Russian, Turkish, Japanese, Korean, PortugeseBrazil

System requirements:
GPU: Adreno 320 and higher, Tegra 3 and higher, PowerVR SGX 544 and higher.
RAM: At least 1 GB RAM is required.
Other devices may work depending on screen resolution and amount of background apps running.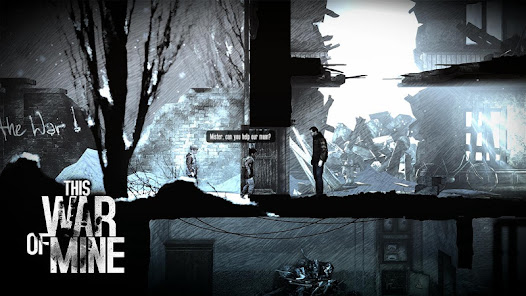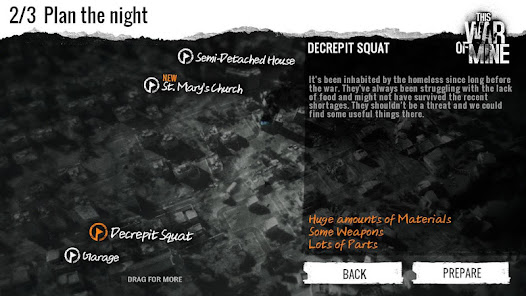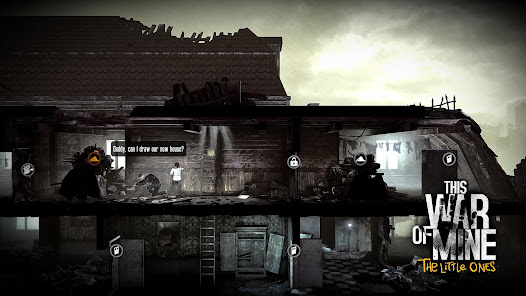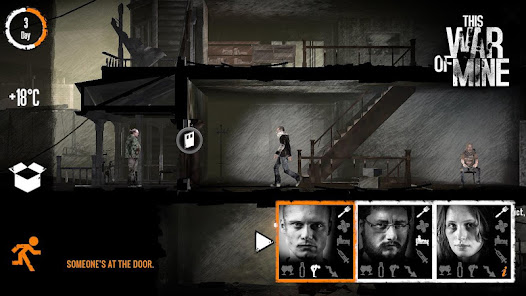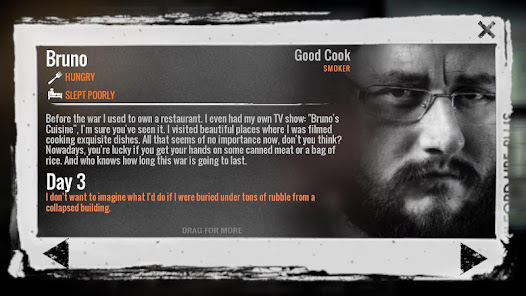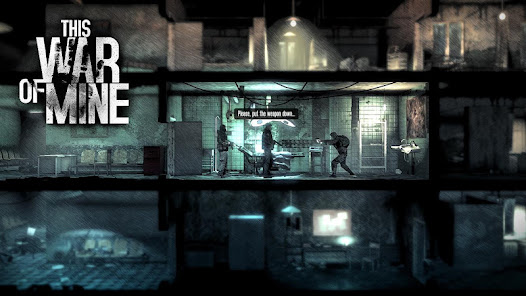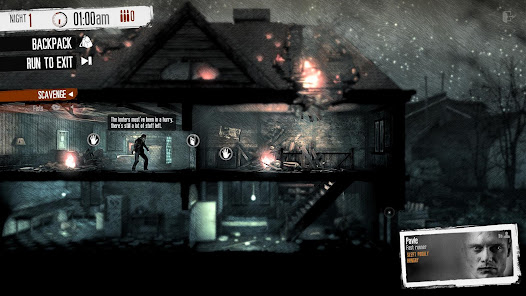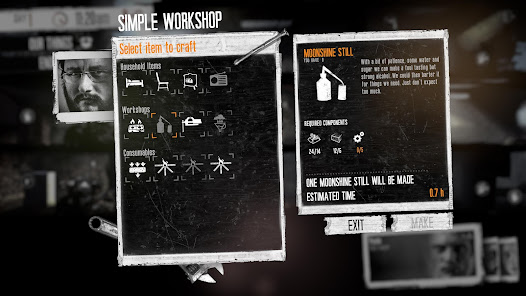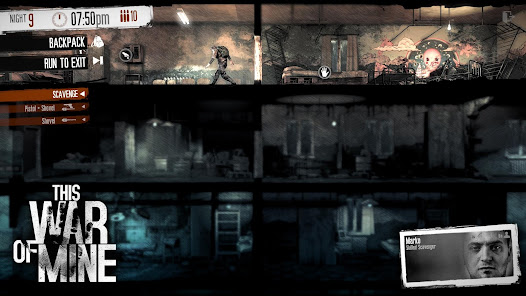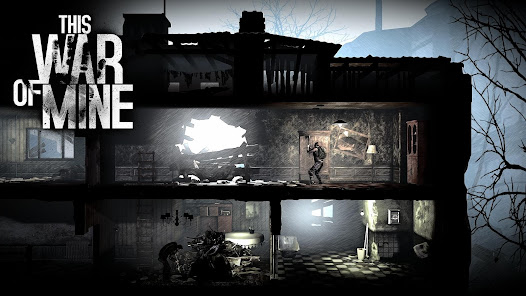 NoxPlayer Menyediakan Pengalaman Terbaik Bermain Game untuk Anda
Bagaimana memainkan This War of Mine di PC menggunakan NoxPlayer?
1Download NoxPlayer di PC Anda.

2Aktifkan paket instalasi dan selesaikan install nya

3Cari This War of Mine di NoxPlayer

4Install gamenya di Google Play.

5Klik ikon Game untuk memulai

6Mainkan This War of Mine dengan NoxPlayer di PC lebih mudah
Metode kenyamanan
Langkah 1. Klik "Download di PC" untuk download NoxPlayer dan apk
Langkah 2. Jika Anda sudah unduh NoxPlayer di PC, klik "Download APK", kemudian seret dan letakkan file ke emulator untuk menginstal.
Video menakjubkan dari This War of Mine
Ingin menjalankan This War of Mine dengan pengalaman bermain game yang lebih baik? Dengan keunggulan layar yang lebih besar, keyboard yang lebih cerdas dan stabil, serta kinerja hardware yang lebih unggul, dengan bangga NoxPlayer menciptakan pengalaman bermain game yang ekstrem di PC. Dengan mengunduh dan memainkan This War of Mine di PC melalui NoxPlayer, pengguna tidak perlu khawatir dengan kapasitas baterai atau gangguan panggilan lainnya.
NoxPlayer kompatibel dengan Android 7 dan mensupport lebih dari 90% game mobile di PC, yang akan meningkatkan pengalaman bermain game Anda dengan sempurna. Selain itu, dengan membuka banyak layar instance, Noxplayer mendukung untuk menjalankan beberapa game atau aplikasi secara bersamaan, atau mengobrol dengan teman Anda saat bermain game.
NoxPlayer sangat kompatibel dengan AMD dan Intel dengan teknologi virtualisasi inti eksklusif, membuat komputer Anda berjalan lebih stabil dan lancar. Unduh NoxPlayer dan rasakan pengalaman ekstremnya sekarang!
NoxPlayer is designed for Windows and MAC OS, please visit this website via computer browser to download NoxPlayer.