Mainkan Toilet Rush: Pee Master di PC dengan NoxPlayer
Detail
Terakhir update :  2023-02-03
Versi sekarang :  0.12
Going to the toilet sometimes can be far more challenging than you expect Fun draw puzzle game for everyone!

At least it's the situation of Tom and Anna.
The poor little boy and girl are trying to go to the toilet as quickly as possible. Before it's too late, help them! Slide to cut the land into bridges with different shapes or Slide your finger to draw the path to help them find the toilet in a rush

Can you guide them to the right path and find the toilet on time? Game on.

Playing "Toilet Rush: Dumb Ways to Pee", you will experience the feeling of rushing to pass each level, because the character you play will be cute cartoon characters who desperately need to go to the toilet but need to overcome different challenges.

"Toilet Rush: Dumb Ways to Pee" is a fun and challenging draw game. The mission is to guide your favorite characters to find the toilet. You have to overcome troublesome walls and avoid obstacles along the way.

In "Toilet Rush: Dumb Ways to Pee", you will have:
Easy to Play: Draw to guide the character through the maze or to slice the land into bridges so that the cute characters can go to pee
Simple and Relaxing: Relax with simple gameplay and try to pass more levels.
Different skins to pick: Poppy, Bendy, Blue, Ninja...
Variety of levels: More than 99+ levels of increasing difficulty.

Play "Toilet Rush: Dumb Ways to Pee" now to help the couple go to the toilet quickly. Try to win this this entertaining & simple puzzle game to relax and sharpen your brain!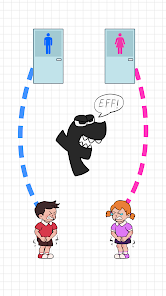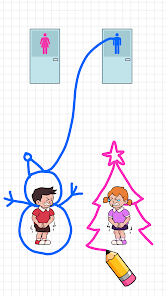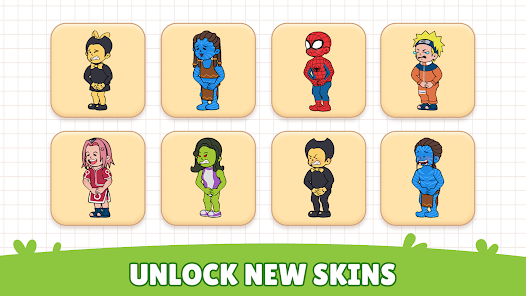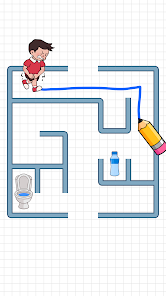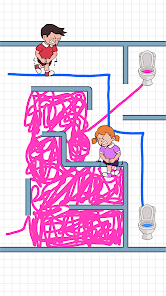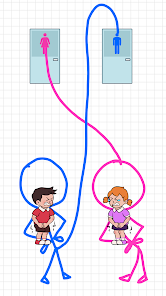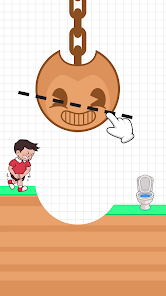 NoxPlayer Menyediakan Pengalaman Terbaik Bermain Game untuk Anda
Bagaimana memainkan Toilet Rush: Pee Master di PC menggunakan NoxPlayer?
1Download NoxPlayer di PC Anda.

2Aktifkan paket instalasi dan selesaikan install nya

3Cari Toilet Rush: Pee Master di NoxPlayer

4Install gamenya di Google Play.

5Klik ikon Game untuk memulai

6Mainkan Toilet Rush: Pee Master dengan NoxPlayer di PC lebih mudah
Metode kenyamanan
Langkah 1. Klik "Download di PC" untuk download NoxPlayer dan apk
Langkah 2. Jika Anda sudah unduh NoxPlayer di PC, klik "Download APK", kemudian seret dan letakkan file ke emulator untuk menginstal.
Video menakjubkan dari Toilet Rush: Pee Master
Ingin menjalankan Toilet Rush: Pee Master dengan pengalaman bermain game yang lebih baik? Dengan keunggulan layar yang lebih besar, keyboard yang lebih cerdas dan stabil, serta kinerja hardware yang lebih unggul, dengan bangga NoxPlayer menciptakan pengalaman bermain game yang ekstrem di PC. Dengan mengunduh dan memainkan Toilet Rush: Pee Master di PC melalui NoxPlayer, pengguna tidak perlu khawatir dengan kapasitas baterai atau gangguan panggilan lainnya.
NoxPlayer kompatibel dengan Android 7 dan mensupport lebih dari 90% game mobile di PC, yang akan meningkatkan pengalaman bermain game Anda dengan sempurna. Selain itu, dengan membuka banyak layar instance, Noxplayer mendukung untuk menjalankan beberapa game atau aplikasi secara bersamaan, atau mengobrol dengan teman Anda saat bermain game.
NoxPlayer sangat kompatibel dengan AMD dan Intel dengan teknologi virtualisasi inti eksklusif, membuat komputer Anda berjalan lebih stabil dan lancar. Unduh NoxPlayer dan rasakan pengalaman ekstremnya sekarang!
NoxPlayer is designed for Windows and MAC OS, please visit this website via computer browser to download NoxPlayer.