Mainkan BlazBlue RR - Real Action Game di PC dengan NoxPlayer
Detail
Terakhir update :  2022-09-20
Versi sekarang :  1.38
!!!!! Recommended Android version: Android 5.0 or above !!!!!
"BlazBlue RR Real Action Game" is a revolutionary 2D sidescrolling fighting game on mobile platform. With its exquisite 2D graphics, orthodox fighting experience and character voices contributed by famous Japanese voice actors, this game is truly a work of art and will leave players awestruck. Another remarkable feature of the game is its unique control system, stylish yet easy to master, this brand new touchandswipe control system will surely bring the ultimate fighting game experience to the players.
BlazBlue Revolution Reburning Features
[Officially licensed. Authorized Blazblue]
The only Blazblue action mobile game authorized by Arc System Works, supervised by Toshimichi Mori, the producer of the original series, perfectly restored the classic characters and moves of the original series, recurred the story of the TV anime, and included all the memorable dialogs.
[Battle on the fingertips]
We abandoned the inhuman virtual buttons, and created a unique tapandslide control mode (we have a patent for this), all the moves will be performed with your fingertips, and give you a refreshing experience just like playing the arcade fighting game. All skills have no cool down time, when performed properly, you can achieve unlimited combos!
[Extremely gorgeous graphics]
The most gorgeous 2D graphics, and the most authentic Japanese graphic style, based on thousands of beautiful original artworks. The most sophisticated battle effects and move presentation, perfectly restored the fighting style of Blazblue, give you the finest fighting experience!
[Alist voice actors and epic music]
Tomokazu Sugita、Yuuichi Nakamura、Aoi Yuuki、Tetsuya Kakihara、Akira Ishida ... dozens of Japanese Alist voice actors joined us in this game, and the game music was composed by Japanese master musician Daisuke Ishiwatari, wake up your ears and listen to the sound of the battle!
[Unlock heroes and deepen their bonds]
Popular characters from the Blazblue series will emerge one after another, players can unlock them by collecting special items. Each hero has a unique fighting style, which will bring you different combat experiences, the restraints among characters are crucial to the battles, unlock more heroes and let the power of bonds help you to overcome the difficulties!
[PVE and PVP, various gameplays]
BlazBlue Revolution Reburning has various gameplays, both PVE and PVP, player can either select story mode to challenge strongholds of higher difficulty, experience the grand storyline of the series, or compete against other players in competitive mode, WIFI battle is also available, you can fight against your friends face to face!
[Contact us]
Customer service
[email protected]
Official websitehttp://91act.com
Official facebook pagehttps://www.facebook.com/bbrr.91act/
Official Twitter Page: https://twitter.com/BlazBlueRR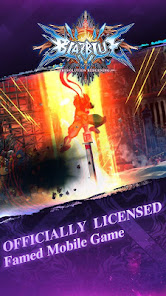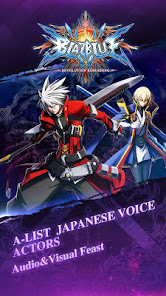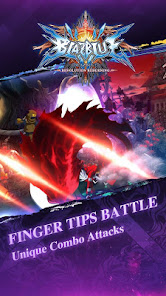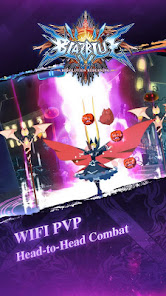 NoxPlayer Menyediakan Pengalaman Terbaik Bermain Game untuk Anda
Bagaimana memainkan BlazBlue RR - Real Action Game di PC menggunakan NoxPlayer?
1Download NoxPlayer di PC Anda.

2Aktifkan paket instalasi dan selesaikan install nya

3Cari BlazBlue RR - Real Action Game di NoxPlayer

4Install gamenya di Google Play.

5Klik ikon Game untuk memulai

6Mainkan BlazBlue RR - Real Action Game dengan NoxPlayer di PC lebih mudah
Metode kenyamanan
Langkah 1. Klik "Download di PC" untuk download NoxPlayer dan apk
Langkah 2. Jika Anda sudah unduh NoxPlayer di PC, klik "Download APK", kemudian seret dan letakkan file ke emulator untuk menginstal.
Video menakjubkan dari BlazBlue RR - Real Action Game
Ingin menjalankan BlazBlue RR dengan pengalaman bermain game yang lebih baik? Dengan keunggulan layar yang lebih besar, keyboard yang lebih cerdas dan stabil, serta kinerja hardware yang lebih unggul, dengan bangga NoxPlayer menciptakan pengalaman bermain game yang ekstrem di PC. Dengan mengunduh dan memainkan BlazBlue RR di PC melalui NoxPlayer, pengguna tidak perlu khawatir dengan kapasitas baterai atau gangguan panggilan lainnya.
NoxPlayer kompatibel dengan Android 7 dan mensupport lebih dari 90% game mobile di PC, yang akan meningkatkan pengalaman bermain game Anda dengan sempurna. Selain itu, dengan membuka banyak layar instance, Noxplayer mendukung untuk menjalankan beberapa game atau aplikasi secara bersamaan, atau mengobrol dengan teman Anda saat bermain game.
NoxPlayer sangat kompatibel dengan AMD dan Intel dengan teknologi virtualisasi inti eksklusif, membuat komputer Anda berjalan lebih stabil dan lancar. Unduh NoxPlayer dan rasakan pengalaman ekstremnya sekarang!
NoxPlayer is designed for Windows and MAC OS, please visit this website via computer browser to download NoxPlayer.