Mainkan Piano Music Hop: EDM Rush! di PC dengan NoxPlayer
Detail
Terakhir update :  2023-05-22
Versi sekarang :  1.0.32
Control the ball to jump on the colorful piano tiles! Rush with your favorite music songs this summer!
Follow the rhythm to dash, run as far as you can on your music road, don't miss any tiles on your way!

Test your reaction and rhythm sensation in this game! Run futher and win higher score in each level holds for you.
This is a ball music game which only needs you to hold the ball, let it jump and hop on the tiles until the end. It will create a whole new experience for players who like ball games or music games.

How to play:
1. Press & Drag the ball, let it jump on the colorful music tiles.
2. Choose your favorite music. Finish the music and rush to the end!
3. Try to hop on every tile, don't miss the tiles!
4. Control the ball, rush to the end with hot songs!

Game Features:
1. Easy to control, but hard to expert.
2. Songs will be added periodically.
3. Simple but special graphic design
4. Breathtaking 3D visuals and effects
5. Offline mode ✅ You can play it without wifi

Challenge yourself in this music ballgame, try your best to win a higher score, collect more stars on your music road!
You can always find your favorite music styles in this game, use your favorite ball, follow your favorite music and never stop hopping!
Enjoy this wonderful music world, relax and give yourself a little excited feeling while controlling the ball to hop on the tiles!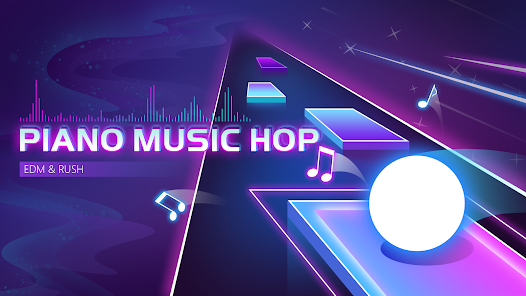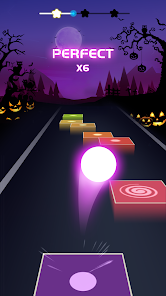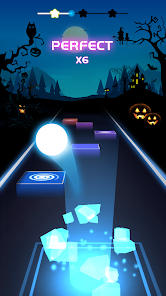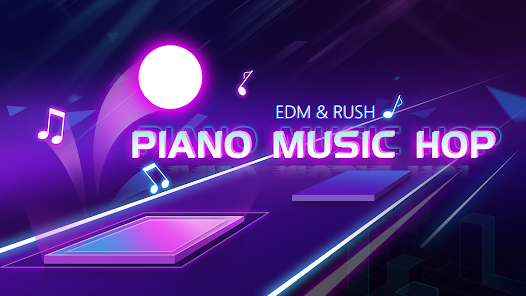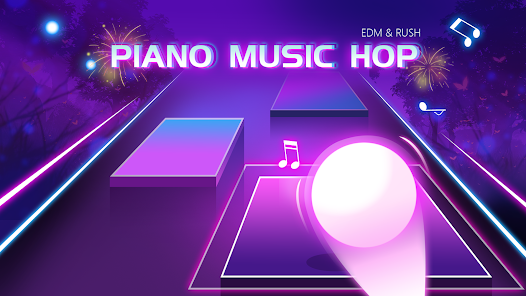 NoxPlayer Menyediakan Pengalaman Terbaik Bermain Game untuk Anda
Bagaimana memainkan Piano Music Hop: EDM Rush! di PC menggunakan NoxPlayer?
1Download NoxPlayer di PC Anda.

2Aktifkan paket instalasi dan selesaikan install nya

3Cari Piano Music Hop: EDM Rush! di NoxPlayer

4Install gamenya di Google Play.

5Klik ikon Game untuk memulai

6Mainkan Piano Music Hop: EDM Rush! dengan NoxPlayer di PC lebih mudah
Metode kenyamanan
Langkah 1. Klik "Download di PC" untuk download NoxPlayer dan apk
Langkah 2. Jika Anda sudah unduh NoxPlayer di PC, klik "Download APK", kemudian seret dan letakkan file ke emulator untuk menginstal.
Video menakjubkan dari Piano Music Hop: EDM Rush!
Ingin menjalankan Piano Music Hop: EDM Rush! dengan pengalaman bermain game yang lebih baik? Dengan keunggulan layar yang lebih besar, keyboard yang lebih cerdas dan stabil, serta kinerja hardware yang lebih unggul, dengan bangga NoxPlayer menciptakan pengalaman bermain game yang ekstrem di PC. Dengan mengunduh dan memainkan Piano Music Hop: EDM Rush! di PC melalui NoxPlayer, pengguna tidak perlu khawatir dengan kapasitas baterai atau gangguan panggilan lainnya.
NoxPlayer kompatibel dengan Android 7 dan mensupport lebih dari 90% game mobile di PC, yang akan meningkatkan pengalaman bermain game Anda dengan sempurna. Selain itu, dengan membuka banyak layar instance, Noxplayer mendukung untuk menjalankan beberapa game atau aplikasi secara bersamaan, atau mengobrol dengan teman Anda saat bermain game.
NoxPlayer sangat kompatibel dengan AMD dan Intel dengan teknologi virtualisasi inti eksklusif, membuat komputer Anda berjalan lebih stabil dan lancar. Unduh NoxPlayer dan rasakan pengalaman ekstremnya sekarang!
NoxPlayer is designed for Windows and MAC OS, please visit this website via computer browser to download NoxPlayer.